---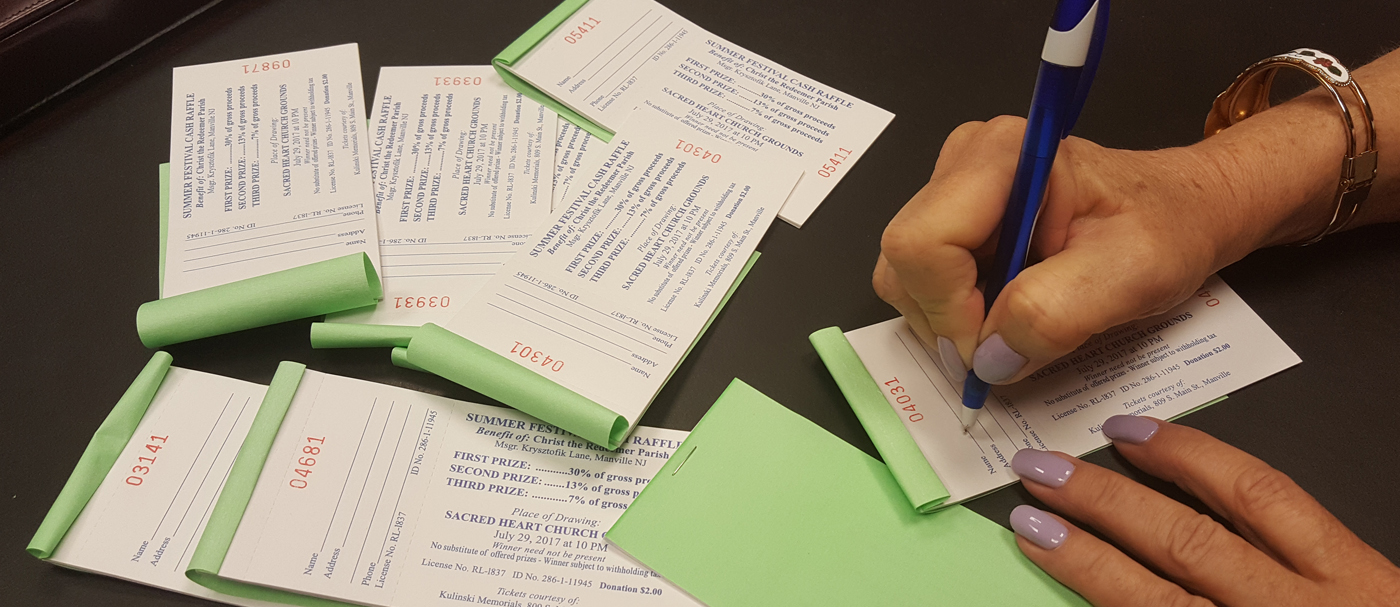 As in previous years, one of the main fundraisers of the Summer Festival will be our Parish Cash Raffle. Money raised through the Cash Raffle will help with the cost of renovation of the bell tower that was desperately needed. The winners will be drawn on Saturday night at 10 PM. First Prize will be 30% of the Gross Raffle Income; Second Prize will be 13% of the Gross, and Third Prize will be 7% of the Gross. Last year's first prize winner was $5774.70 before taxes!
You will receive ONE book of raffle chances at $20.00 per book. PLEASE NOTE THAT TICKETS ARE $2.00 EACH. Please try your best to sell the entire book and return it either in the Sunday collection basket or mail it to the Parish Office in the enclosed envelope. If you are unable to either sell or purchase the raffle book, please return any unsold chances by Sunday, JULY 23rd. Any unsold tickets not returned, will receive a reminder phone call.
The Summer Festival is more than a fundraiser; it bonds us together when we work for our parish. I hope that once again you will be able to "Take a Step" and offer your time and talent so that this year's Festival will be as great as those in the past. Let us pray together for good weather and good fellowship, and may God bless you and your families for your continuous dedication.
---
Jak w poprzednich latach tak i teraz największy wpływ w czasie festiwalu przyniesie Parafialna Loteria Pieniężna. Zebrane ofiary pozwolą na pokrycie kosztów renowacji wieży, która była niezwykle konieczna. Zwycięzcy loterii zostaną wylosowani w Sobotę 29 lipca o godz. 22:00. Nagrody stanowić będą kolejno: I nagroda 30%, II nagroda 13%, trzecia nagroda 7% zysku brutto od sprzedanych biletów loterii. W ostatnim roku pierwsza nagroda osiągnęła $5774.70 (bez podatku).
Wyslalismy do Państwa książeczkę z biletami loterii w cenie $20.00 za wszystkie bilety. Proszę zwrócić uwagę że cena za pojedyńczy bilet wynosi $2.00. Prosimy o sprzedaż wszystkich biletów i zwrócenie ich do parafii, aby mogły wziąć udział w losowaniu. Sprzedane bilety można przynieść do biura parafialnego albo wrzucić do koszyka podczas zbierania kolekty w czasie Mszy św. Jeśli nie sprzedasz wszystkich biletów zwróć proszę resztę biletów do biura parafialnego do dnia 23 lipca. Posiadacz niesprzedanych i niezwróconych biletów otrzyma telefoniczne powiadomienie z parafii.
Nasz Letni Festiwal Parafialny to nie tylko okazja do zbiórki pieniędzy na rzecz parafii, to także szansa na wspólne spotkanie, współpracę i budowanie więzi. Mam nadzieję że będziesz gotowy aby nam pomóc i ofiarujesz swoje talenty i czas aby przyczynić się do naszego Parafialnego Festiwalu. Módlmy się wspólnie o dobrą pogodę i dobrą frekwencję. Niech Bóg błogosławi ciebie i twoją rodzinę za twoją pomoc i ofiarność.
---
---
---
---
---
---
---
---