parish app
---
---
Mega Raffle
---
---
blog post O. Witold Radowski
---
blog post gacek
---
trickytray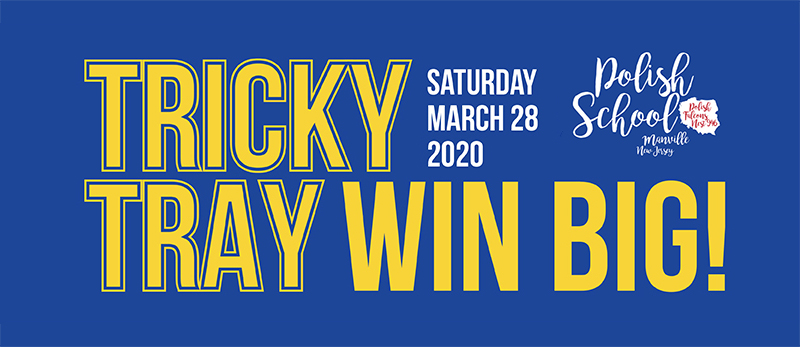 We look forward to seeing you on SATURDAY, MARCH 28th for a fun-filled evening!
Saturday, March 28 -- Doors open at 5 p.m. The first ticket will be pulled at 7:00 p.m

CHRIST THE KING SCHOOL -- 99 NORTH 13TH AVE., MANVILLE NJ
Purchase ADMISSION To The Event – A regular $20 admission gets you in the door, one sheet of tier one tickets (valued at $10) and Coffee/Tea/ Dessert! You can either buy a single entry OR reserve a Table (seats 10).

Purchase via eventbrite

Or purchase via mailing in check. See order forms located here

Please note: The event is TABLE SEATING. All participants will be assigned to a specific table. Should you wish to reserve a table, you must have a pre-paid group of 10. Parties with under 10 guests will be seated with other attendees.

Space is limited to 200 attendees - do not delay! To ensure you and your friends will all sit together, we suggest purchasing a table and inviting your friends to sit with you. Tables can ONLY be purchased for $200 by mail using a special form click here.

Please make checks payable to: Polish Supplementary School - Polish Falcons Nest 946 Corp
Mail check with completed form to:
PSS Attention: Tricky Tray
PO BOX 111
Raritan NJ 08869.

*PLEASE NOTE THIS IS AN ADULT ONLY EVENT - MUST BE 21 to ENTER
*NO EXCEPTIONS*


Purchase your tricky tray tickets ahead of time! Your $20.00 admission ticket includes (1) Tier 1 flat sheet of 25 tickets (Valued at $10). Increase your odds of winning and add additional pre-sale package tickets by completing this special form.


Event Details - We will be serving hot coffee, tea and freshly baked desserts. Water and soda will be available for purchase. Be sure to get here early to check out the baskets and put your tickets in AND please bring extra CASH ($$) for the any additional ticket purchases and 50/50!


Ticket pricing and information - Raffle Tickets can be purchased ahead of time or at the event. Save time and be sure to order your pre-sale ticket packages ahead of the event! We will be taking CASH ONLY ($$) the night of the event. We will accept checks until March 14, 2020 for pre-sale ticket orders and pre-sale raffle ticket packages. Checks and completed order forms can be mailed to (PSS Attention: Tricky Tray PO BOX 111 RARITAN NJ 08869). We will impose a $25.00 returned check fee on all returned check.

Tier 1 (Flat sheet of 25) = $10.00
Tier 2 (Flat sheet of 25) = $15.00
Tier 3 Grand Prizes (rolled tickets of 1) = $5 each or $20 for 5 tickets
Tier 4 Super Grand Prize (rolled tickets of 1) = $10 each or $25 for 3 tickets

50/50=$1 per ticket or $5 for 6 tickets

Package (A) = $50.00 if pre-ordered by 3/14/20
Includes: 1 Admission Ticket w/ one Tier 1 flat sheet ($20 Value), 1 Tier 1 sheet of 25 ($10 Value), 1 Tier 2 flat sheet of 25 ($15 Value), 1 Grand prize ticket ($5 Value) and 1 Super Grand Prize ticket ($10 Value) ; Total Value $60.00; Cost: $50.00, a savings of $10.00!

Package (B) = $75.00 if pre-ordered by 3/14/20
Includes: 1 Admission Ticket w/ one Tier 1 flat sheet ($20 Value), 2 Tier 2 sheet of 25 ($30 Value), 5 Grand Prize tickets ($20 Value) and 3 Super Grand Prize tickets ($25 Value) ; Total Value $95, a savings of $20.00!
Questions: Call (908) 240-1656 Agnes, (973) 452-0925 Michelle or email us at PSSTrickytray@gmail.com
License #RL1923 // 50/50 #RL1924 // Registration ID #286-5-42724
end blog post
---
pielgrzymka
---
parish app post
---
>Advent Retreat
---
connect now post
---
Parish Dance
---
5 blog post Summer Festival
---
BLOG SINGLE
blog post mission cross
---
blog post mission cross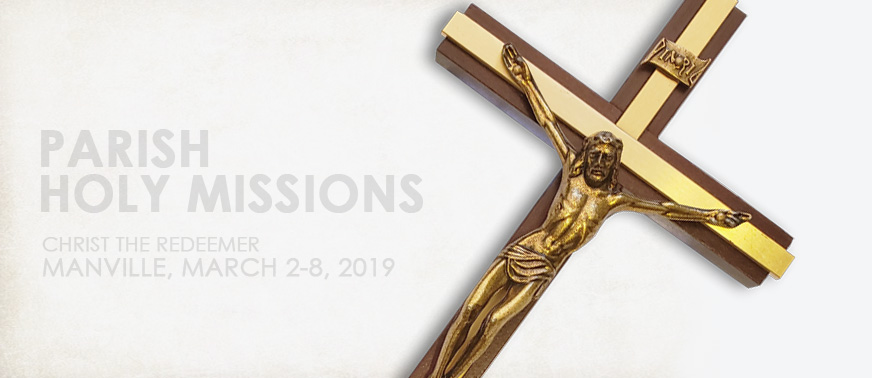 To commemorate our 100th Anniversary of a Roman Catholic Presence in Manville, a high-quality Crucifix is available as a remembrance of this centennial anniversary. Valued at more than $50, these crosses are offered to our parishioners for $30 and will be sold after all masses. The purchased crucifixes will be blessed at the closing Mission Mass (7:00 p.m., Friday, March 8 at SH).
Please consider purchasing and placing this crucifix in a prominent place in your home or giving it to someone special as a gift.
end blog post
---
blog post F. Bennett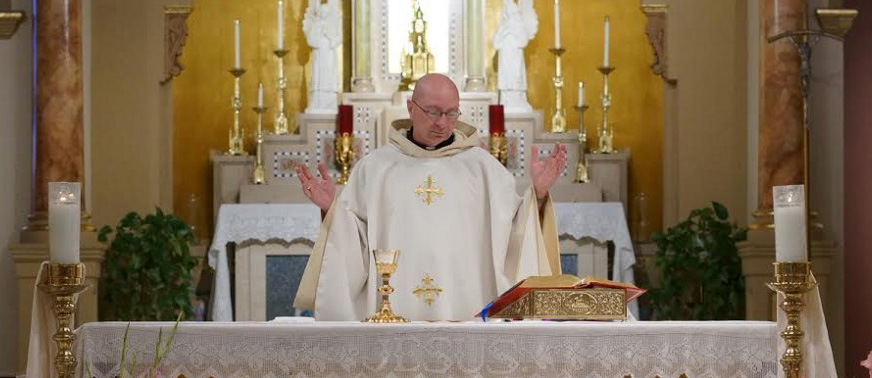 Rev. Richard Bennett, C.Ss.R. is the pastor of St. Peter the Apostle Parish in Philadelphia, home of the National Shrine of St. John Neumann, the fourth Bishop of Philadelphia and the first American male to be canonized. Father Bennet, a Redemptorist, will preach in English during our week-long Parish Mission March 3-8. Conducting retreats and missions for many years, he preaches the Gospel of unconditional love – in Jesus Christ there is plentiful redemption for all – a message that can move hearts and change lives. I strongly urge you to participate in our Parish Mission and to invite others. With your involvement in this Parish Mission, instead of a temporary spiritual boost we can be the foundation of a renewed relationship with the Holy Redeemer for the next 100 years of Roman Catholic Parish Life in Manville.
end blog post
---
blog post O. Witold Radowski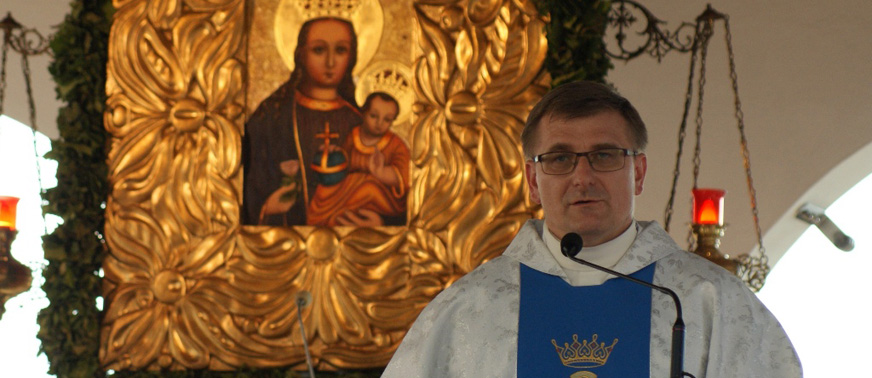 Sto lat życia parafialnego w Manville to bardzo długi okres czasu, lecz w porównaniu z wiecznością to mniej niż mgnienie oka. Warto zatem na chwilę przystanąć by zobaczyć czy droga życia, którą idę prowadzi do życia wiecznego. Bowiem w Chrystusie Bóg poszukuje Ciebie, gdyż jest Miłością i chce byś doświadczył zbawienia poprzez wiarę i nawrócenie z grzechów. Nie zwlekaj zatem i weź udział w Misji Parafialnej od 2-8 marca 2019. Odnów swoją Wiarę, Nadzieję i Miłość. Przyjmij Jezusa do swego serca by trwać "w" i "przy" Chrystusie wraz z całą swoją rodziną.
Misje Święte poprowadzi O. Witold Radowski, Redemptorysta. Na kapłana został wyświęcony 22.05 1999 r. przez abpa Tadeusza Gocłowskiego w Tuchowie. Po święceniach został skierowany do pracy duszpasterskiej w Krakowie jako katecheta, a następnie pracował w duszpasterstwie powołań. W 2002 r. ukończył "Tirotinium Pastoralne" przygotowujące redemptorystów do pracy misyjnej i rekolekcyjnej. Ponadto był wychowawcą w nowicjacie w Lubaszowej, przełożonym w domach zakonnych w Elblągu, Warszawie, a obecnie w Tuchowie. Mimo licznych obowiązków nieustannie pracuje na polu rekolekcyjnym i misyjnym. Przeprowadził wiele rekolekcji i misji nie tylko w Polsce, ale również dla Polaków żyjących poza granicami Polski.
end blog post
---
blog post Parish Mission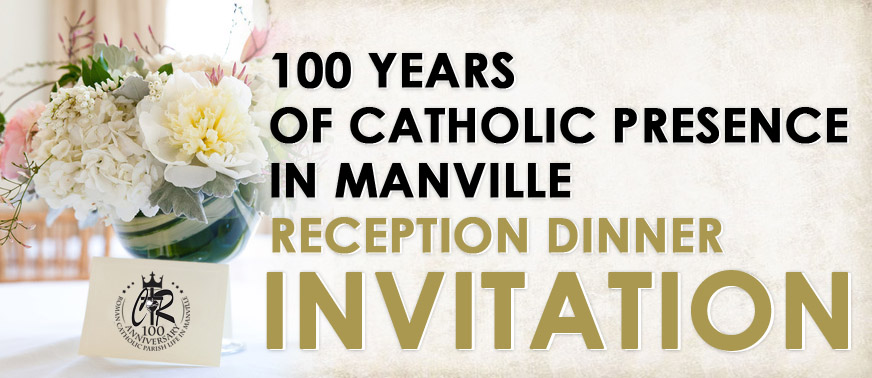 On March 10th we will celebrate 100 years of the Catholic presence in Manville with a special Liturgy at 11AM followed by a reception at Christ the King School. Our Main celebrant and homilist will be Rev. James Checchio, Ordinary Bishop of the Diocese of Metuchen. Among the invited guests are former Pastors and Associate Pastors of Sacred Heart and Christ the King Parishes, Redemptorists, Community Leaders and Government Officials.
The ticket prices for the reception are $15 for adults, $5 for children 10-16 and children under 10 are free. Tickets will be on sale after all Masses and at the Parish Office.
end blog post
---
blog post Parish Mission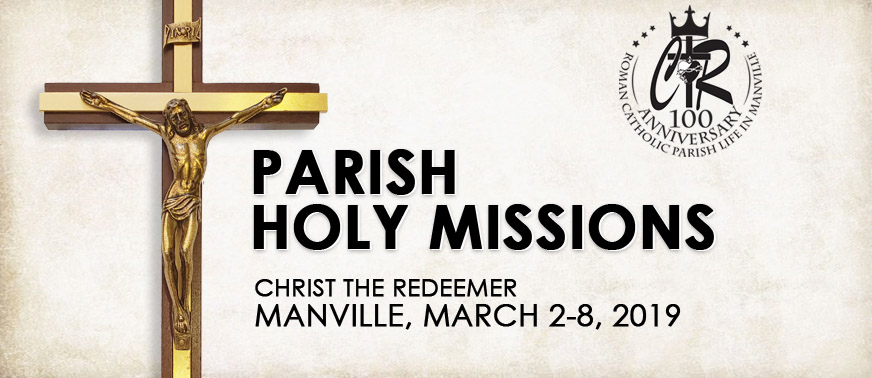 Please accept this invitation to participate in our Parish Mission on March 2-8, 2019 on the occasion of the 100th Anniversary of Roman Catholic Parish Life in Manville. The Parish Mission's aim is to unify us as Christ the Redeemer Parish, make us stronger as a faith community, and prepare us for the future.
The Parish Mission is an extraordinary preaching event. God's Word is proclaimed through the Bible and Catholic doctrine. It is also proclaimed through the life, learning, and personal experience of the preacher. It is an opportunity for us all to renew our Catholic faith. The mission services consist of a proclamation of the Word of God, preaching and reflection, singing and praying together. It will be an opportunity to experience in a special way the wonderful and incredible presence and love of God.
If you have abandoned the faith of your youth, the mission is for you. If you have been faithful in your witness of your Catholic faith, the mission is for you. If you judge yourself to be in need of spiritual growth, the mission is for you. The mission is for everyone, but especially for you and your family.
The Redemptorist missionaries: Rev. Richard Bennet CSsR and Rev. Witold Radowski CSsR invite you into a deeper relationship with the Lord. You will be amazed to discover how putting aside an hour each evening will create a lifetime of enrichment for your faith. Please join me in praying for the success of our parish mission and plan now to share with me this very special, grace-filled time.
end blog post
---
blog post 100 Anniversary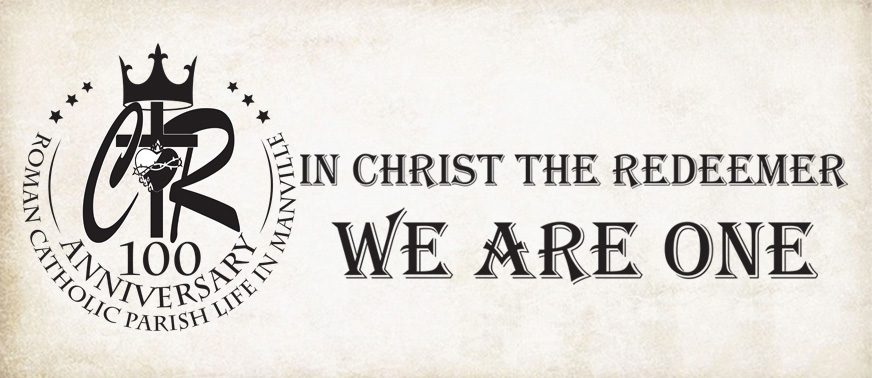 The centennial celebration of Roman Catholic Parish Life in Manville is about envisioning what we want our parish to look like in 2019 and beyond, and to begin moving to that place. The events and activities that have already taken place, and those that are upcoming, aim to unify us as a parish, make us stronger as a faith community, and prepare us for the future. In a way, this process is about discerning who God wants us to be as a parish.
The goals for our 100th anniversary celebration are to:
Renew our faith
Increase the faith and spiritual growth of our parish
Help us encounter and develop a personal relationship with Jesus
Deepen our participation in Sunday Eucharist and sacramental life of the Church
Reconnect with our community
Reinvigorate members of the parish
Provide opportunities to meet, socialize, and renew relationships
Intentionally outreach to, and support, our many young families
Revive our commitment
Make Disciples
Emphasize ongoing adult faith formation as an integral part of parish life
Understand our role in the Body of Christ by reaching out and helping others as a way of sharing our time, treasure and talent
We are grateful to all who have been working on these endeavors. If you have any questions or would like to join our volunteers, please contact the parish office at 908-725-0072 or parish@ctrmanville.com
It is our prayer that you will be able to join us at as many of the different events possible. Please know that you are always WELCOME at Christ the Redeemer Parish, Manville NJ!!!
end blog post
---
blog post Advent EN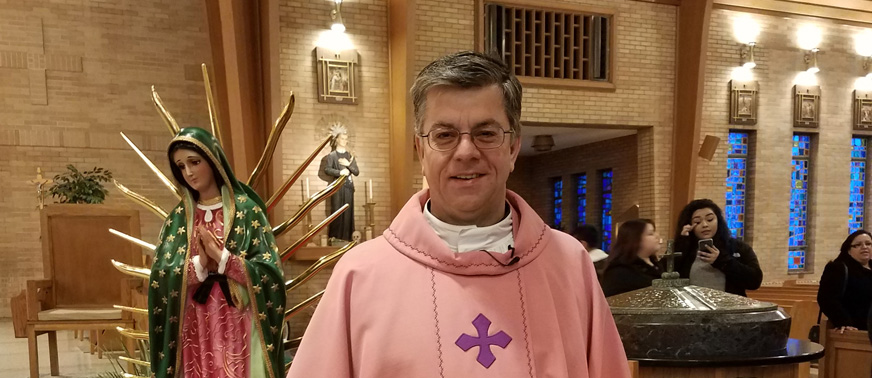 December 1-5
If you didn't know better, you would think that Redemptorist Father Mike Houston was a Manville boy. He was raised in the working-class town of Lancaster, Pennsylvania. After high school, he had been a blue-collar worker; had a girlfriend, played a guitar, and drove a Harley. Does this sound like the start of a priestly vocation to you? Hardly!
At the urging of his hometown pastor, Fr. Mike began studies for the priesthood. His undergraduate studies were done at Washington Theological Union, and his seminary training was mostly at St. John's University in Queens. After ordination he served 13 years in the Caribbean working with the poor. For 5 of those years, Fr. Mike was the pastor of an all-black congregation, a job he loved.
Today, Fr. Mike is an associate with Redemptorist Father Jim Szobonya, a Manville native, at St. Gerard Catholic Church in Lima, Ohio. Please welcome Fr. Mike Houston as he enlivens our faith at the evening retreat sessions, Sunday through Wednesday. Be a part of Christ the redeemer Advent retreats a time for renewal and preparation for Christmas. We are looking to seeing You!
If you have abandoned the faith of your youth, the mission is for you. If you have been faithful in your witness of your Catholic faith, the mission is for you. If you judge yourself to be in need of spiritual growth, the mission is for you. The mission is for everyone, but especially for you and your family. end blog post
---
blog post Advent PL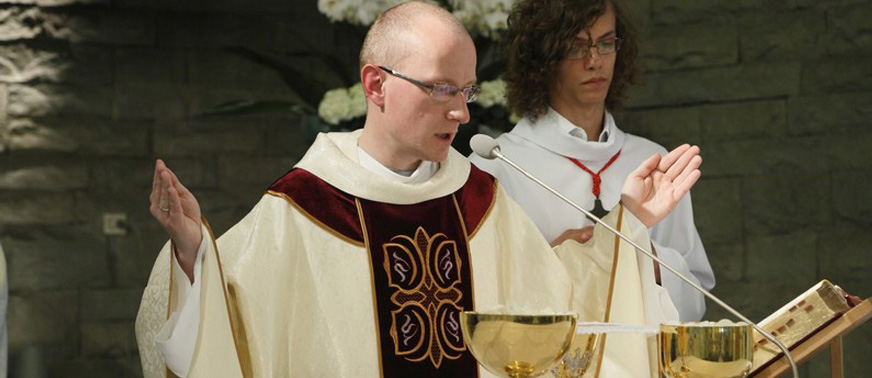 Każdy czegoś szuka. Jedni szukają szczęścia, inni wciąż gonią za miłością, a jeszcze innym całe życia upływa na szukaniu "dziury w całym". A Ty czego szukasz? Może wydaje Ci się, jako przykładnemu chrześcijaninowi, że szukasz Boga? Paradoks jednak polega na tym, że to nie Ty szukasz Boga, ale Bóg wciąż szuka Ciebie – On od początku stworzenia szuka człowieka, którym zafascynował się od pierwszej chwili, odkąd tchnął w jego nozdrza tchnienie życia. Czy zechcesz dać Mu się odnaleźć?
Jak to zrobić? Udział w rekolekcjach adwentowych to pierwszy ku temu krok. "W oczekiwaniu Pana…" – to temat naszych rekolekcyjnych zamyśleń. Ale kto na kogo czeka? Kto tak naprawdę przeżywa swój Adwent?
O. Arkadiusz Buszka - urodził się w 1984 roku w Toruniu. W roku 2008 po ukończeniu studiów na Uniwersytecie Mikołaja Kopernika wstąpił do Zgromadzenia Najświętszego Odkupiciela, a w 2010 roku złożył śluby zakonne. Święcenia kapłańskie przyjął 28 maja 2016 r. w Tuchowie. Następnie skierowany został do pracy duszpasterskiej w parafii św. Klemensa Hofbauera w Warszawie. Obecnie jest słuchaczem dwuletniego studium pastoralnego redemptorystów w Lublinie, gdzie przygotowuje się do pracy misjonarza – rekolekcjonisty.
Rekolekcje odbeda sie w dniach 16 - 19 grudnia.
end blog post
---
blog post Mega Raffle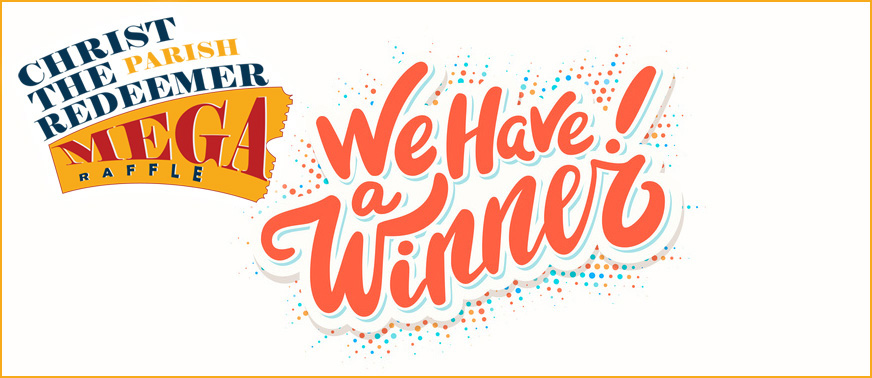 Christ The Redeemer Mega Raffle 2018 WINNERS!
1st -- $2,740.00 -- Anthony Scarpantonio
2nd -- $2,055.00 -- Margaret Gerenza
3rd -- $1,370.00 -- Geraldine & Walter Klimowich

22 Runner Up Prize Winners - $342.50
Lee Ravaioli, Ida Corradino, Wojciech Sadej, Mary Ann Mahilo, Elizabeth Niedala, Bogdan Nowak, Henry & Marta Klik, Dolores Tomaszfski, Tomasz Jaje, Richard Norton, Gloria Saverin, Leokadia Macur, Kathleen Tartaglione, Regina Grodzki, Angie & Walt Wilczek, Janina Miazga, Anna & Bogdan Chlipalski, Bonnie Nemes, Nialetta Makowski, Jan Poplawski, Joe Soska, Jan Guszkiwicz
CONGRATULATIONS!
end blog post
---
5 blog post Summer Festival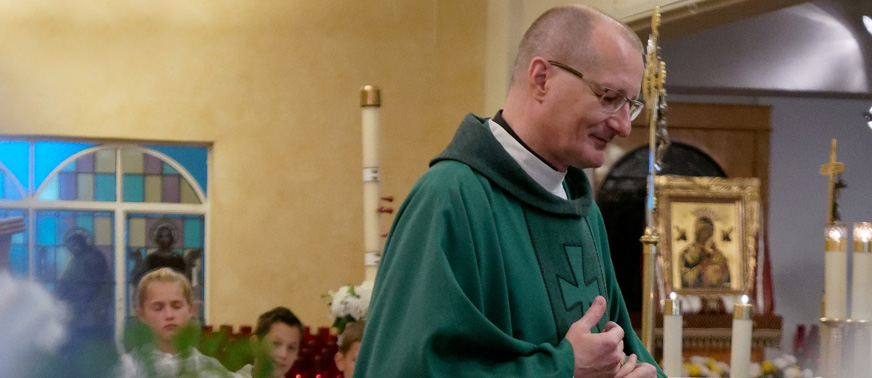 Christ the Redeemer Parish was honored to join in celebrating with Father Bogie on the 25th anniversary of his ordination. Rev. Boguslaw Augustyn was ordained on May 30, 1993 in the Church of the Annunciation of Our Lady in Tuchow, Poland. He currently serves as an Army Reserve Chaplain with the rank of Lt. Col. He earned a Master's of Divinity degree in theology from Major Redemptorist Seminary, Tuchow, Poland, his master's degree in Church history from the Pontifical Academy of Theology, Krakow, Poland, and his master's degree in sociology from the Catholic University of America, Washington DC. He also received his doctorate in Sociology from the Catholic University of America in Washington, DC.
Father Bogie reports to the Pentagon where he "Takes the temperature every day." in his own words reporting to his superiors on the moral of the troops. He writes policies for chaplains in the Army and helps to prepare them for their ministry with the troops. On weekends, he travels to two military bases in the D. C. area serving at Masses.
Father Bogie served as pastor of CTR Parish from June, 1999 to May, 2009. He is affectionally described as extremely focused and determined. He is also described as someone who puts all his energy into any project underway. When the Bishop approached him concerning the possible combining of CTK and SH parishes, he worked diligently on renovations to CTK School. Father Bogie found parishioners he could trust and who he knew would work with him towards the betterment of our parish.
As part of Father Bogie's 25th anniversary celebration, he was the main officiant at the 10:00 and 11:30 Masses at the Sacred Heart worship site. At the 10:00 service, participants included the Knights of Columbus, seven altar servers, Deacons Bill and Tom, Father Stan, the choir, a videographer, ushers, and a packed church of parishioners. Father Stan made opening remarks honoring Father Bogie for his commitment, love, and sacrifices for the love of God. Father Bogie thanked everyone in attendance and commented on how hard it was to believe it had been ten years since his assignment in Manville. Olivia Jaime and Kyla Kinahan, both eighth grade students participated in the Mass by doing the first reading and intercessions, respectively. Deacon Bill presented a homily that focused on how we respond to God's calling. He referred to how Father Bogie received the call and spent many years in training to become a Redemptorist priest. Deacon Bill conducted a short demonstration by pouring water onto the edge of a glass and making it "sing" by moving his fingers around the rim. He said, "Sometimes God calls us with a gentle song like the water in the bowl." He concluded by reminding us that life is full of choices, and we decide whether we share the riches we have or walk away from Jesus like the young man did in the gospel.
After Mass, Dolores Finlan and Charlotte Snow presented Father Bogie with a bouquet of flowers and offered him God's blessing in the many languages of the members of our parish. Father Bogie thanked everyone and prayed a special blessing for them.
In the afternoon, a reception was held in Father Bogie's honor at the Christ the King School cafeteria. All CTR parishioners were invited to attend and several hundred enjoyed a delicious meal, cake. They spent the afternoon with Father Bogie sharing memories, taking pictures, and enjoying each other as a parish community.
end blog post
---
END BLOG SINGLE