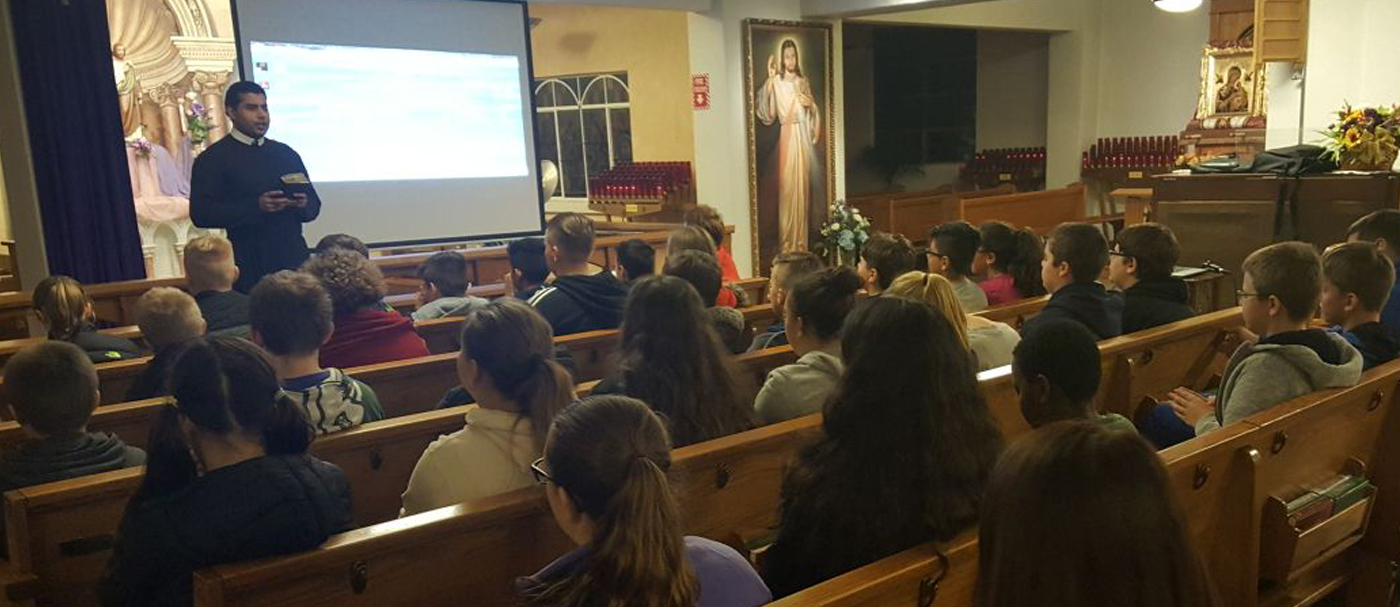 Fr. Ciya welcome lettrer
My Name is Fr. Thomas Ciya. I am a Redemptorist Priest from India, working now with the Redemptorist Province of Baltimore. For the last five years I have been an associate Pastor in the Redemptorist Parish of St. Martin of Tours in Bethpage, New York. I was ordained, as a Redemptorist Priest in India on April 29, 2006 which belongs to the Oriental Rite called the Syro Malabar Catholic Church. The Syro Malabar Catholic Church is one of the 22 individual churches in the Universal Church and it has its own particular traditions and liturgy which comes from the tradition of St. Thomas Apostle.
Being a Redemptorist back in India, I had been involved with parish missions and youth programs. After coming to the US, I became fully engaged in parish work, and it is quite difficult to find free time for mission preaching. As this is one of my first parish missions after a long-time break, and this opportunity is exciting for me.
During this upcoming parish Advent Mission, I am going to talk about Christian Family and Faith. As we prepare ourselves to celebrate Jesus's birth in the human family, it is apt to reflect together on the need for creating Holy Families in our parishes and our communities. I am looking forward to meeting with you soon, and am requesting all of you to pray for our upcoming Advent Mission. Let it be a time of grace and fellowship with one another. May Mary our Mother always intercede for us with her Son Jesus our Lord and Saviour. God Bless you all.

Thank You
Fr. Thomas Ciya C.Ss.R
DAY 1
Father Ciya reminded us of how important God is in our lives. Without God we will perish, he said. Father told several stories of the consequences of people who thought material possessions, power, or fame are all a person needs. How wrong they were! Instead, Father encouraged us to live our faith with courage and have God as our foundation.
In addition, Father reminded us of the importance of incorporating Christian habits in our family lives that include praying together, attending Mass, and teaching our grandchildren morning and evening prayers, reading from the Bible, and the rosary. He warned that if we don't do this, they may turn to destructive practices and people.
the other hand, embracing Jesus as your Savior prevents your enemy or anyone else from destroying you. God is our protector. We must believe we have a Savior and whatever we wish, He will give it to us.
The first night of our advent retreat ended with what Father Ciya called "Holy Hour". This included exposition of the Blessed Sacrament, hymns, and prayers. Father Ciya gave us a preview of Tuesday's service by inviting all participants to either bring pictures of our deceased loved ones or write their names on paper so we could pray for them and reconcile any issues we may have had with them so all could be at peace.
Final words for the evening: Jesus is on your side!
DAY 2
Tonight's theme was SIN. Father Ciya focused on how sin enslaves us and oppresses us. We need to reflect on our actions with an open heart and ask God to guide us. When we commit a sin, you are a slave to that sin and can become addicted to that sin committing it over and over.
Usually, when we do something wrong, your conscience alerts you
DAY 3
Father Ciya began the third day of our advent retreat with a gospel reading from John. Jesus appears to the disciples after rising from the dead and says, "Peace be with you". That was the first time Jesus used this expression offering the disciples a complete peaceful state in their lives. Jesus also gave them the authority to forgive sins and sent them off to preach the message of God.
Father Ciya chose this passage because he wanted to offer those in attendance this same peace and well-being through the sacrament of reconciliation. All we had to do, he advised, is ask God to have mercy on us and forgive us our sins. To help us prepare for confession, Father Ciya and Mrs. Charlotte Snow (as "Mary Smith") role played a question and answer dialogue.
Here is the conversation:
Mary Smith: Why do we have to confess our sins to the priest? Why can't we just tell God directly?
Father Ciya: Jesus gave the disciples the power to forgive or retain sins. The priests were also given this authority through the bishops. When we sin, we jeopardize our relationship with God, our fellow human beings, family, and nature. Priests represent all four of these levels and can listen, comfort, and give advice.
Mary Smith: The Bible tells us all are sinners. Do you ever make mistakes and sin?
Father Ciya: Do doctors ever get sick and yet you still go to them for healing? Yes, priests commit sins, but they can still heal and forgive sins because they are an instrument of God and have God's grace.
Mary Smith: Do priests go to confession?
Father Ciya: According to the Catholic Church teachings, Catholics should go to confession at least once a year. Priests must go on a regular basis. Even bishops and popes go often. Pope Francis makes his confession once a week and sometimes it takes him three hours!!
Mary Smith: After confession, how long can I receive communion?
Father Ciya: You can continue to receive communion as long as you are in a state of grace.
Mary Smith: If I confess my sins to you, will you tell anyone?
Father Ciya: NO, not a single priest can act on a confession. He cannot reveal anything heard during confession.
Mary Smith: What is penance?
Father Ciya: Penance is not to replace our sins. It must be taken seriously. Whatever the penance is, you must do it immediately and complete it as directed.
Mary Smith: Confession is boring. I commit the same sins over and over.
Father Ciya: Prepare yourself before confession. Analyze your life. We are humans so don't be so hard on yourself even if you commit the same sins over and over.
Mary Smith: Can you tell me how to make a good confession?
Father Ciya: Say, "Bless me Father for I have sinned." Then say how long it has been since your last confession. Start with the sins against God, then yourself, your brothers and sister, and nature.
The evening concluded with the exposition of the Blessed Sacrament and confessions heard by Father Ciya and Father Stan.
DAY 4
Father Stan and Father Thomas Ciya offered a healing Mass on the last night of our Advent Retreat. Deaons Bill and Tom also served. During the homily, Father Ciya recounted his journey to become a Redemptorist priest.
When he was in high school, Father Ciya applied to enter the priesthood. A priest interviewed him and explained the requirements. One was attaining a certain score in his final exams. Although he did not achieve the needed score, the priest returned and brought the good news that Father Ciya was accepted.
Father Ciya studied for 13 years and before his ordination the superior met with him about his strengths and weaknesses. During this meeting, Father Ciya asked why he was admitted into the priesthood even though his school scores were low. The superior presented a letter that had been written 30 years earlier by Father Ciya's local priest. In the letter, he stated that Father Ciya came to daily Mass everyday as a child.
Father Ciya shared his story because tonight's theme was: The Power of the Eucharist. It was because of his daily Mass and receiving of the Eucharist that enabled him to follow his dream of becoming a Redemptorist priest. According to Father Ciya the Eucharist:
• Has healing power
• Protects us from evil
• Can unite the whole world
• Assists us in our final journey
• Is the sacrament of all sacraments
• Gives us strength to reach out to others
• Is the source of our Christian life

Included in the service was a healing prayer and an invitation to come forward and receive individual prayers and healing oil from the priest.
At the conclusion of Mass, Father Stan thanked Father Thomas Ciya and the participants applauded showing their appreciation for his serving during our advent retreat.
---
---
---
---
---
---
---
---