---
---
---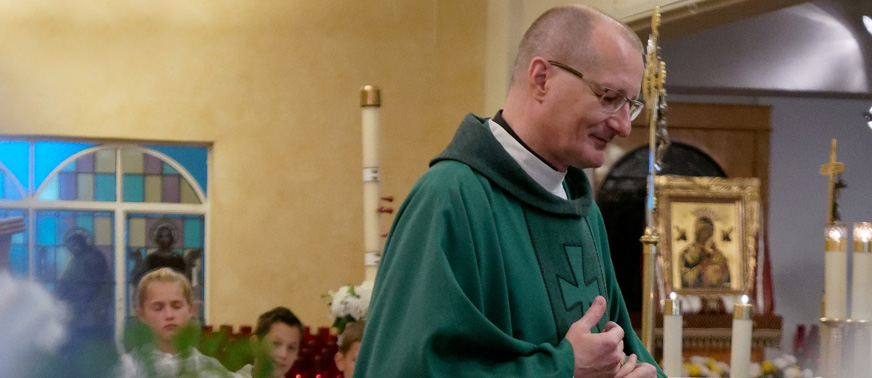 Christ the Redeemer Parish was honored to join in celebrating with Father Bogie on the 25th anniversary of his ordination. Rev. Boguslaw Augustyn was ordained on May 30, 1993 in the Church of the Annunciation of Our Lady in Tuchow, Poland. He currently serves as an Army Reserve Chaplain with the rank of Lt. Col. He earned a Master's of Divinity degree in theology from Major Redemptorist Seminary, Tuchow, Poland, his master's degree in Church history from the Pontifical Academy of Theology, Krakow, Poland, and his master's degree in sociology from the Catholic University of America, Washington DC. He also received his doctorate in Sociology from the Catholic University of America in Washington, DC.
Father Bogie reports to the Pentagon where he "Takes the temperature every day." in his own words reporting to his superiors on the moral of the troops. He writes policies for chaplains in the Army and helps to prepare them for their ministry with the troops. On weekends, he travels to two military bases in the D. C. area serving at Masses.
Father Bogie served as pastor of CTR Parish from June, 1999 to May, 2009. He is affectionally described as extremely focused and determined. He is also described as someone who puts all his energy into any project underway. When the Bishop approached him concerning the possible combining of CTK and SH parishes, he worked diligently on renovations to CTK School. Father Bogie found parishioners he could trust and who he knew would work with him towards the betterment of our parish.
As part of Father Bogie's 25th anniversary celebration, he was the main officiant at the 10:00 and 11:30 Masses at the Sacred Heart worship site. At the 10:00 service, participants included the Knights of Columbus, seven altar servers, Deacons Bill and Tom, Father Stan, the choir, a videographer, ushers, and a packed church of parishioners. Father Stan made opening remarks honoring Father Bogie for his commitment, love, and sacrifices for the love of God. Father Bogie thanked everyone in attendance and commented on how hard it was to believe it had been ten years since his assignment in Manville. Olivia Jaime and Kyla Kinahan, both eighth grade students participated in the Mass by doing the first reading and intercessions, respectively. Deacon Bill presented a homily that focused on how we respond to God's calling. He referred to how Father Bogie received the call and spent many years in training to become a Redemptorist priest. Deacon Bill conducted a short demonstration by pouring water onto the edge of a glass and making it "sing" by moving his fingers around the rim. He said, "Sometimes God calls us with a gentle song like the water in the bowl." He concluded by reminding us that life is full of choices, and we decide whether we share the riches we have or walk away from Jesus like the young man did in the gospel.
After Mass, Dolores Finlan and Charlotte Snow presented Father Bogie with a bouquet of flowers and offered him God's blessing in the many languages of the members of our parish. Father Bogie thanked everyone and prayed a special blessing for them.
In the afternoon, a reception was held in Father Bogie's honor at the Christ the King School cafeteria. All CTR parishioners were invited to attend and several hundred enjoyed a delicious meal, cake. They spent the afternoon with Father Bogie sharing memories, taking pictures, and enjoying each other as a parish community.
---
---
---
---
---